Featured Property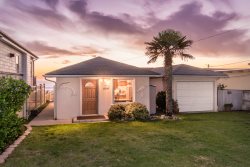 (057B) Beach Haven 2
Click this link to visist Cayucos Chamber of Commerce Website
http://www.cayucoschamber.com/
Travelers come to Cayucos for many reasons. Some to get away, others to explore the wine country or visit Hearst Castle. Beachside Rentals has a home to make your experience in beautiful Cayucos that much better!

Maybe while you're here, you will have an opportunity to see the bioluminescent waves, the butterflies migrating or the elephant seals birthing, molting or breeding. Learn more at http://www.elephantseal.org/


Cayucos is Unique:
19 public beach accesses
1 stop light
Great dog walking beach
Quite and cute down town with antique shops, surf stores and delightful restaurants
Walking to the end of the pier and watch sea life
Exploring tide pools or walking the long beach stretch is one of the rare attractions our travelers love
Free parking
Surf and beach activities for all to enjoy
Available Properties
Loading Available Properties
Flexible Dates? View other Properties close to your Date Range.
Available
Unavailable
Check-in
Check-out
Not finding what you're looking for?